After VERY CLOSE RACES. Your 21-22 Homecoming Candidates are Freshman Lorelai Crider Sophomore Diana Romeo Junior Trinity Norris Senior Cloey Asplin You make us WILDCAT PROUD!!! Join us January 6th for our Homecoming ceremonies.

Show your SPIRIT. Games will be for HS only but MS should participate in the dress up!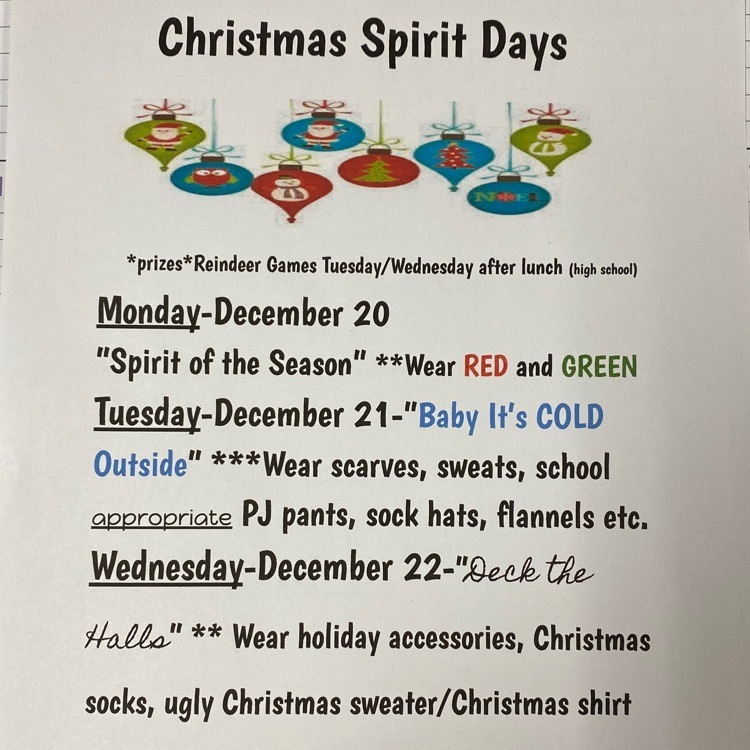 Order your yearbook now!!!! Go CATS!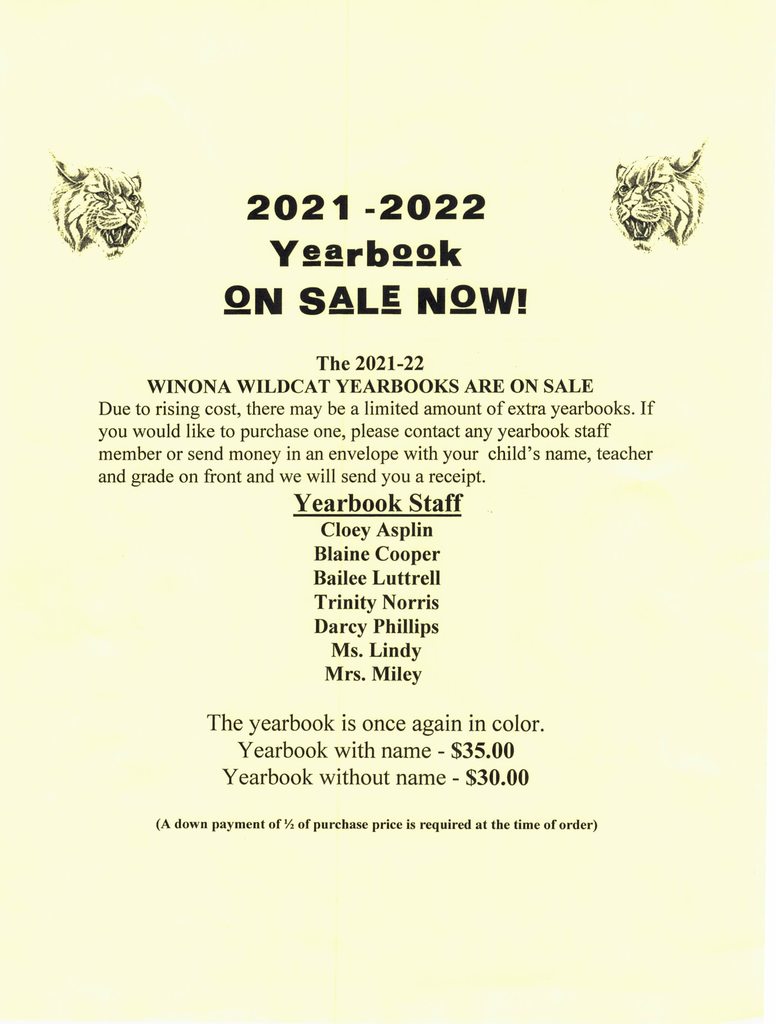 Oct 20th Big Spring Conference Cross Country Race in Mtn . View MO. The race will be run @ the Dayne Glass Golf Course. Varsity Boys @ 2:00. Varsity Girls @ 2:30. Jr. High Boys @ 3:05 and Jr. High Girls @ 3:15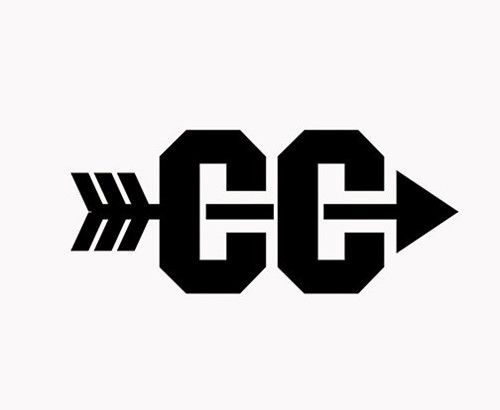 Big Spring Conference Game Schedule for October 12th. Tuesday's games are as follows 4:30 pm Girls (1) Alton vs (5) Couch 5:45 pm Boys (2) Bunker vs (6) Couch 7:00 pm Girls (2) Bunker vs (3) Van Buren 8:15 pm Boys (1) Van Buren vs (5) Winona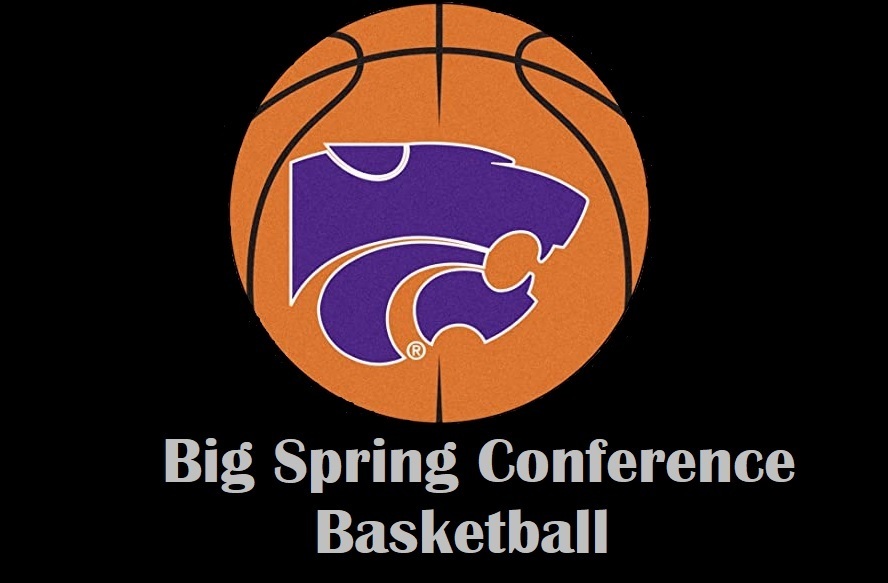 Saturday 10/16 our High School JV Team will be attending a tournament at Liberty High School. Their game schedule is as follows 9:00 am vs Willow Springs 10:30 am vs Mountain Grove 11:15 am vs Liberty 1:00 pm vs Summersville 2:30 pm vs Salem 3:15 pm vs West Plains 5:00 pm CHAMPIONSHIP GAME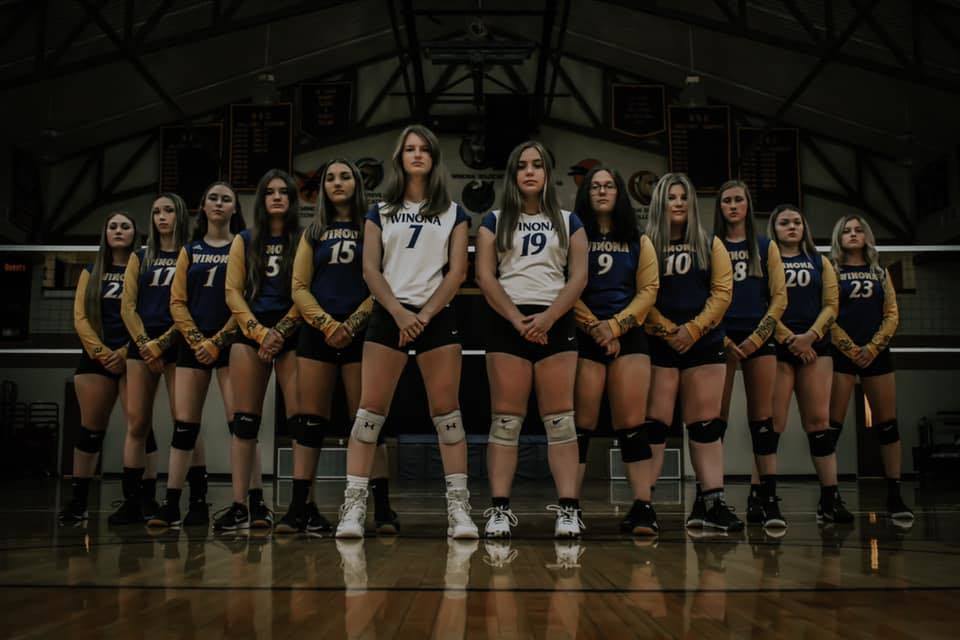 Our Wildcat Basketball Team store will be open for the next two weeks only. Please click the link to access our available items and complete orders . This time frame is supposed to allow orders to be delivered by early season.
https://www.bsnteamsports.com/shop/VZrwnHxpSY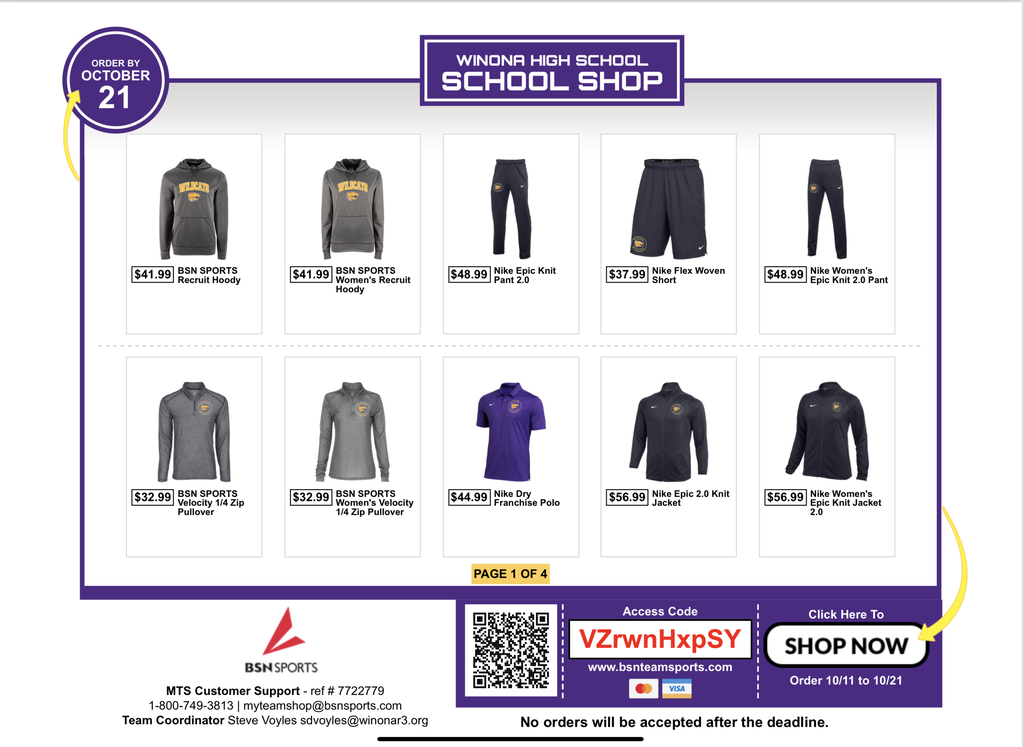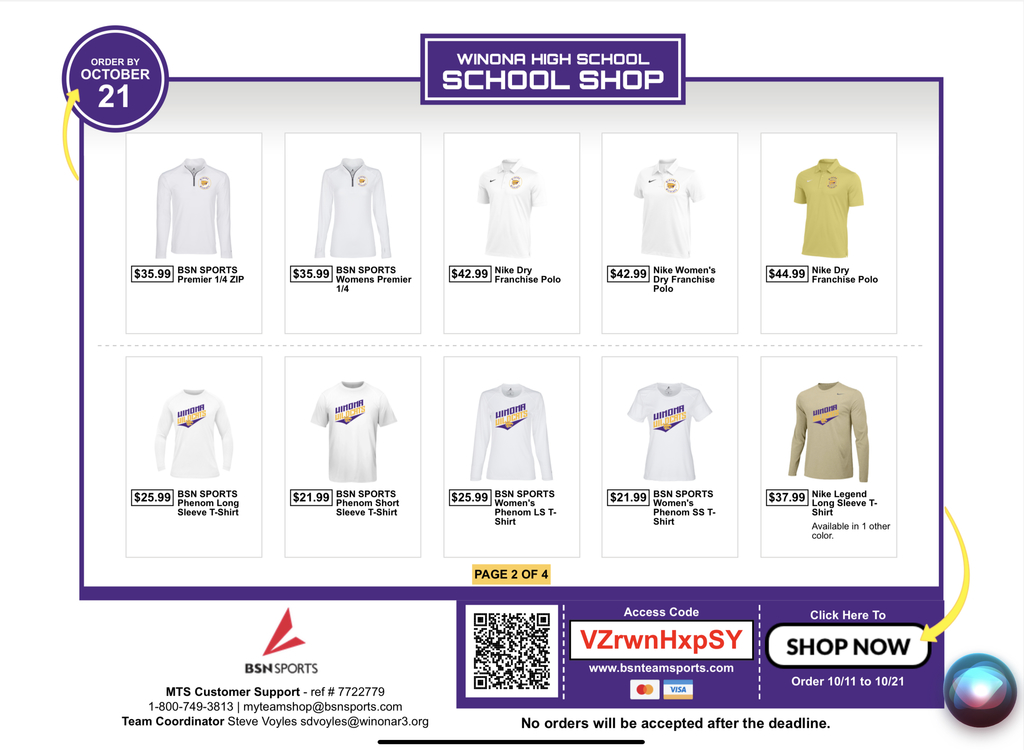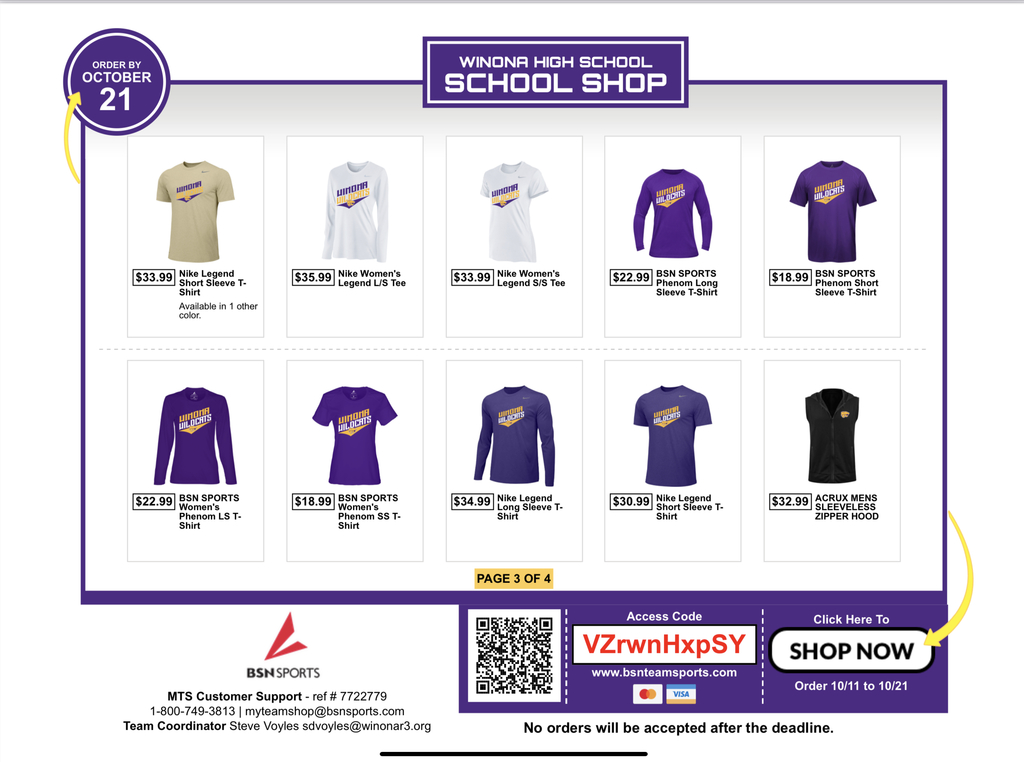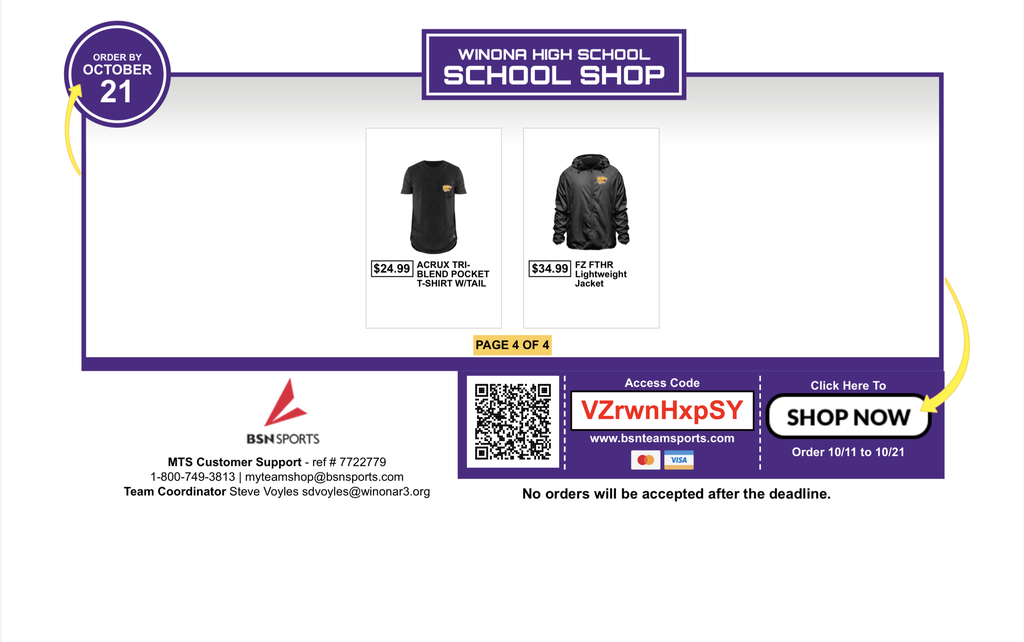 Our Scholastic Book Fair will be starting October 11th thru the 14th. It will be open from 7:45 to 3:15. Students will be about to check out all the exciting books we have to offer. Don't forget to mark your calendars!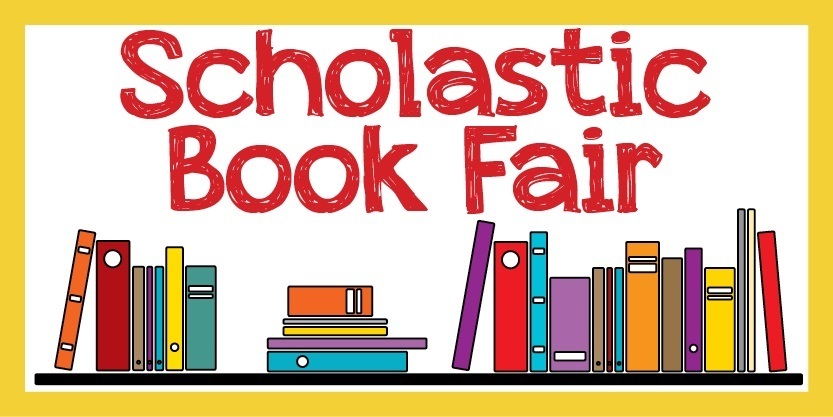 Monday, October 4, High school baseball at Eminence vs Summersville at 4 PM. High school volleyball at home vs Poplar Bluff 5 PM. Come out for SENIOR NIGHT. 1 varsity game only.

October 11th, HS Volleyball Pink Out Game. Admission to the game is by DONATION and all proceeds will be donated to the Breast Cancer Foundation of the Ozarks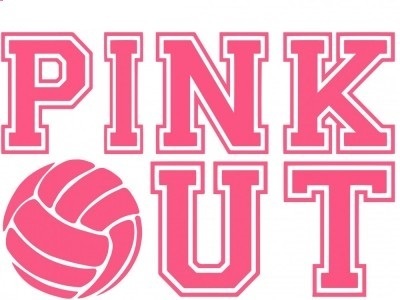 If you'd like to order a T-shirt, please see a volleyball player. All orders must be turned in by Thursday, September 30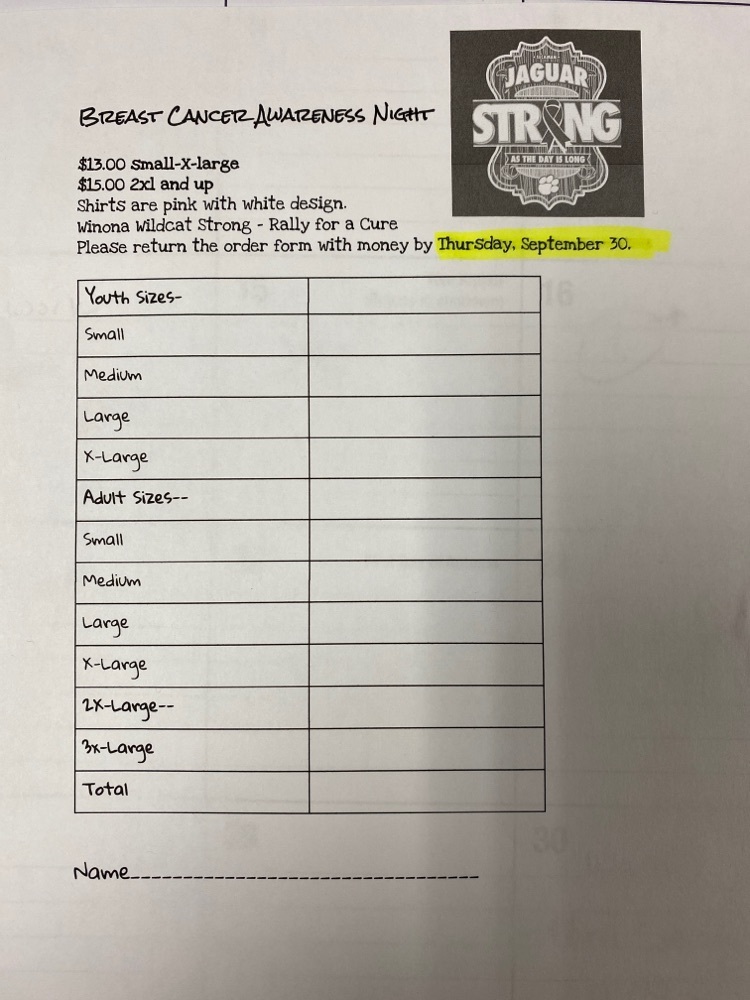 This week in Winona Wildcat Athletics: Monday HS Volleyball @ Lesterville 5:30 pm Tuesday HS Baseball @ Kosh 4:30 pm HS Volleyball at HOME against Couch 5:30 pm JH Volleyball @ Thayer 5:30 pm Wednesday Elementary Cross Country @ Couch JH/HS Cross Country @ Ellington Thursday JH Basketball at HOME against Alton. One girl game. Two boy games. 5:00 pm start Friday JH Basketball @ Eminence 5:30 boys and girls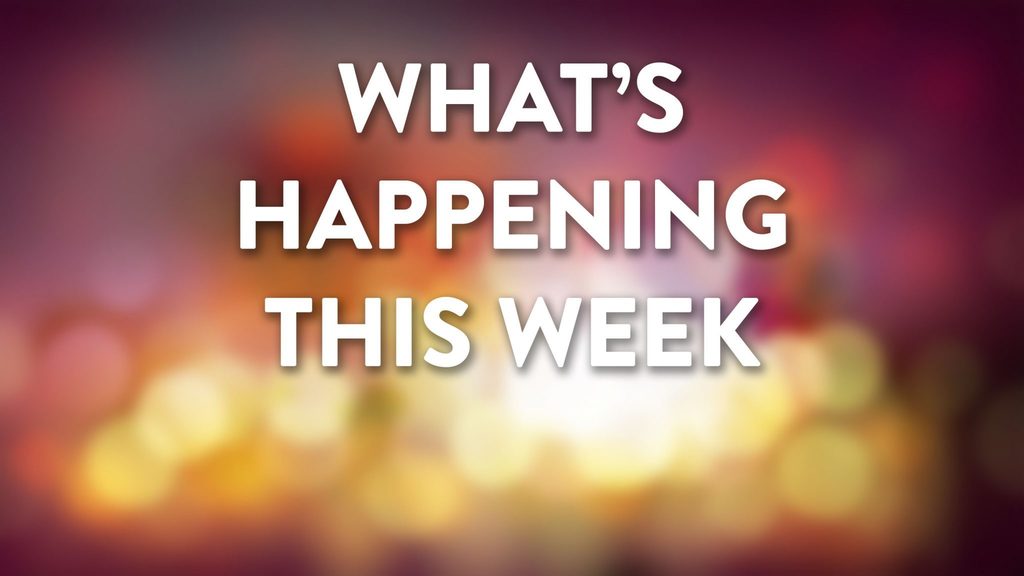 Couch Cross Country Meet Wednesday September 29, 2021 Location: Couch R-1 School 22206 MO 142, Myrtle, MO 65778 Schedule 10:00 am Elem. Boys and Girls (1st and 2nd Grade) 1 Mile - Top 10 Medals 10:45 am Elem. Boys and Girls (3rd - 5th Grade) 1 Mile - Top 10 Medals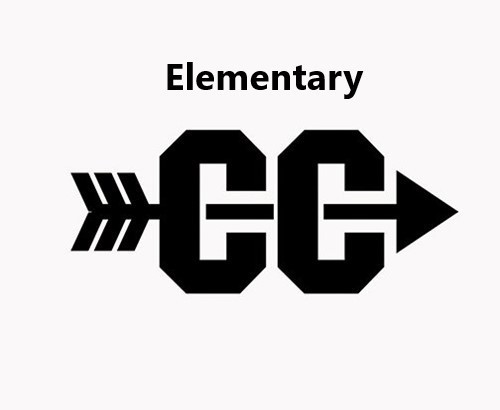 The Junior High Basketball scheduled for Monday 9/27 at Van Buren is being postponed to a later date. We will find another day to play!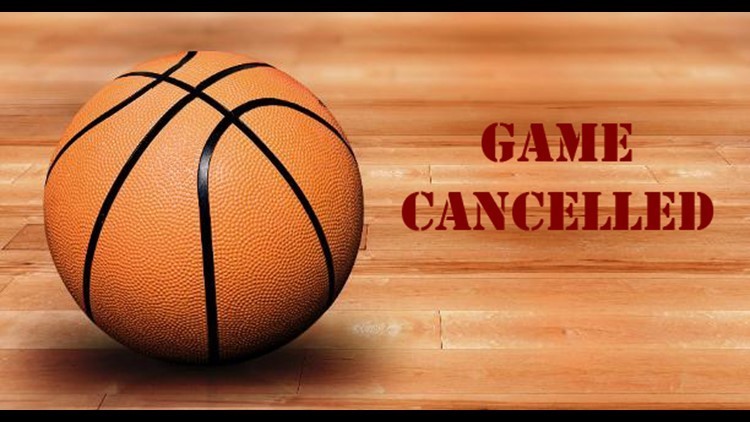 Monday: HS Volleyball at HOME against Ellington 5:30 JH Volleyball @ Cabool 5:30 HS Baseball @ Van Buren 4:30 Tuesday: HS Volleyball at HOME against Summersville 5:30 JH Basketball (Boys Only) @ Naylor 6:00 HS Baseball @ Summersville 4:30 Wednesday: XC @ Van Buren Thursday: HS Volleyball at HOME against Kosh 6:00 HS Baseball at HOME against Clearwater 4:30 JH Basketball (Boys Only) Start of BIG 3 Tournament @ East Carter Friday: JH Volleyball at HOME against Licking 5:30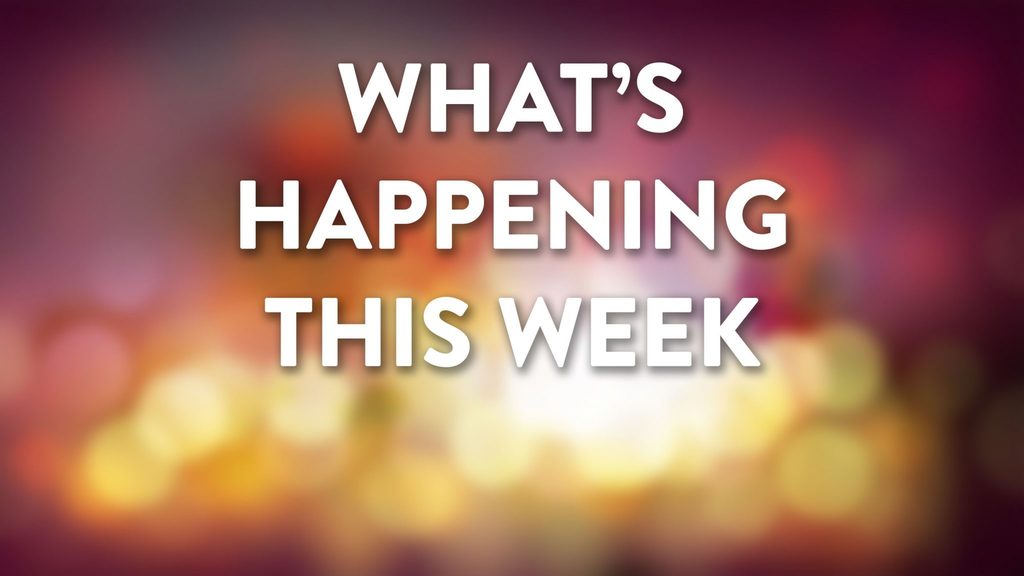 9-18-21 Congratulations to the Winona Jr High Volleyball team for their Championship Win in the Shannon County Invitational today. They went undefeated!!! Great day to be a WILDCAT!!!

September 14th High School Baseball @ South Iron has been CANCELED. Jr. High Volleyball, AWAY @ Summersville Game time is 5:30 High School Volleyball is HOME vs. Eminence Game time is 5:30 Go CATS!!!