Elementary Cheer Camp!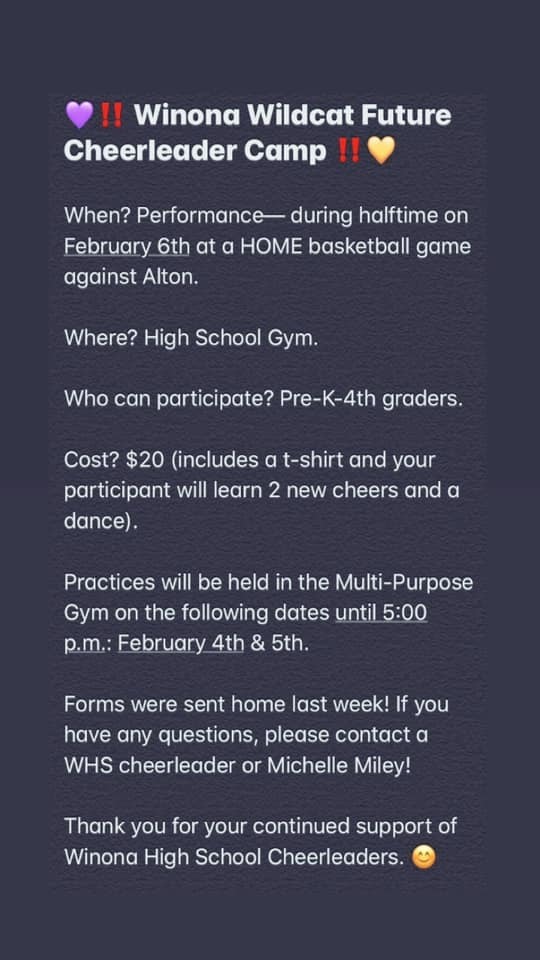 Open Gym Schedule. Monday the 13th, Tuesday the 14th and January 31. 5:30 to 8:30 pm. More dates will be added for next week

January 9th, HS Basketball vs. Norwood @ 6:00 pm Varsity will play first tonight with 1/2 Jr. Varsity game after that. Come out and enjoy your Wildcats.

High School, 1st semester report cards will go home on Thursday.

January 6th, HS Basketball this evening at HOME vs. Summersville. Varsity will play 1st, starting @ 6 pm. Come out and support your Wildcat Basketball!!!

December 17th, High School basketball game for this evening has been postponed. Make up date will be posted when more information is available.

December 17th. No School. Keep safe out there.

No school today, December 16 due to the increased potential for ice. The K-6 Music and Band concert for tonight has also been rescheduled for Thursday evening! Please keep safe.

Homecoming on Friday, December 13th. Jr. Varsity will play 1/2 game @ 6 pm . We will then have the Homecoming Activities followed by a full Varsity game. Come out and enjoy the fun. HS Dance to follow 9-11 pm (WHS Students Only)

Dec. 5th HS Basketball vs. Ellington has a game time change. The game will now be played at 5:00 pm due to a scheduling conflict. Please come out and support our Wildcat basketball team.

Congratulations to our 2019-2020 Homecoming Court Tessa Tipton, Grant Needels, Kylia Stayton, Kyla Hiebert, Kiley Cowen and Kalani Thomason. Congratulations to you all.

November 12th, High School Boys, Basketball practice will be from 11:00 am to 1:30 pm.

Tuesday, November 12th, NO SCHOOL. Keep warm and safe and we will see you on Wednesday, November 13th.

Best of luck to all our State Cross Country Runners. We are all proud of you.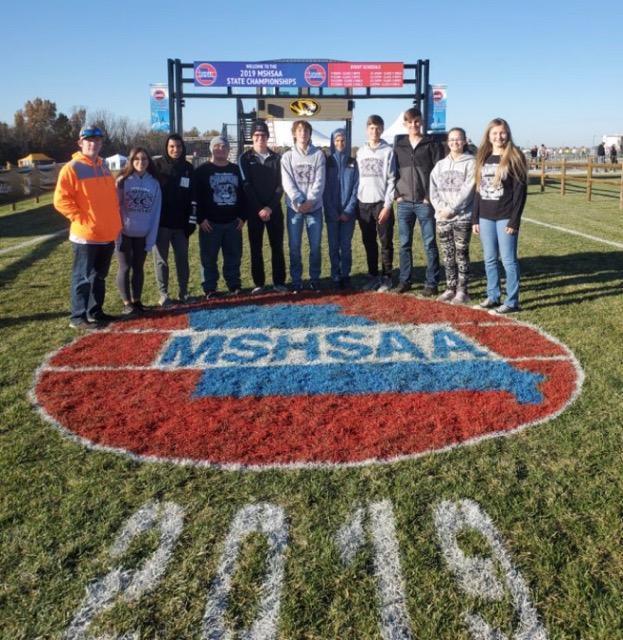 Reminder that school WILL BE in session tomorrow. Even though we are doing the four-day weeks we will have to attend a few Fridays throughout the year. There will not be any after school programs/tutoring tomorrow. Normal bus routes will be followed with school dismissing at 3:45. School will also be in session on Friday, November 15th and December 6th. (See school calendar for additional scheduled Fridays)

Race times for Sat. Class 2 Boys 9am Class 2 Girls 9:35am Class 3 Boys 10:15am Class 3 Girls 10:50am Class 1 Boys 11:30am Class 1 Girls 12:05pm Coaches Mtg @ 8:15 am in the gym. $5 gate fee Awards will be in the gym at these times Class 2 10:30am Class 3 11:45am Class 1 1pm.

The Jr. High Basketball game at Doniphan has a time change. It will be played to 6:00 pm this evening. The bus will leave @ 4:20 pm Good luck Wildcats

October 10th. Cross Country times have been moved up, due to pending rain up north. The bus will leave @ 12:30 and the races will start @ 2:15 pm

High School Baseball Games for today have been canceled and moved to tomorrow. Tomorrows games will be played on Wednesday, October 9th. The games will be played at the same times. Thursdays schedule will stay the same.

Monday is Blue Shirt Day, also known as World Day of Bullying Prevention. Staff, students, and community members are asked to wear blue on Monday, October 7th to promote bullying awareness and send the message to end bullying. Blue jeans, blue shirts, blue ties, blue shoes, blue hats! I hope to see everyone in blue for such a great cause.